I was really excited to receive this months glossy box especially since it was going to be a festive edition. I have heard lots of great things about lasts years Christmas box so was hoping this one would be as good.
The box was a pretty silver rather than its usual pink, with black and silver starry tissue paper inside, tied with a silver ribbon. The usual menu of the contents was replaced with a large sheet explaining the contents in detail with a load of discount codes.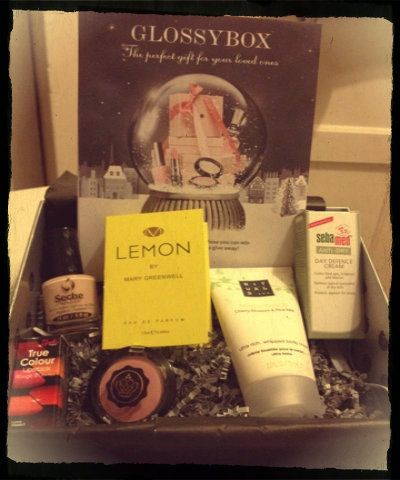 When I opened the box a disappointed look fell on my face. Although the box did smell nice (probably because the perfume was leaking) the products inside where not what the other girls were receiving. I felt a little bit upset that Ive paid £12 in total and did not receive the same amazing products. Most girls received eye palettes and a full sized Milkshake whipped conditioning cream. So i need to decide whether or not this is my last glossy box as i feel like I'm wasting my money. I have filled in the surveys but still get the wrong shades.
Anyway rant over, What did i get?
First up the tiny perfume sample: "Lemon" by Mary Greenwell.
Mary Greenwell is a famous British make up artist and this is her second fragrance. The "Lemon" perfume is very pricey, costing £90 for a 100ml bottle or £60 for £50 ml. I didn't have to test this as the bottle has leaked all other the box so everything smells of this. In my opinion, this is not worth the price. I'm not a huge fan of citrus scents. I am more of a floral girl so this sample has unfortunately been placed in the bin.
The fifth product is the
Sebamed Anti dry day defence cream
.
This a much needed product for me. With having to walk 5 miles a day for the school run in freezing temperatures, my skin is suffering. I have used it and i can say I'm quite impressed. There is no scent and has really done its magic on my dry patches. A 50ml bottle costs £9.99. Defiantly recommend giving this one a try.
This month Glossy box gave their subscribers a bonus product. Mine was this very pretty own brand blusher.
The shade is Glossy Rosewood. This is a very nice little extra. It looks a very suitable shade for my skin tone and will be defiantly adding this to my makeup bag.
Overall i thought this was a disappointing box, especially before Christmas. Some products i will keep but most will go to the bin or to friends. As always with Glossy box, I find myself jealous of other people's boxes, but it is still a nice treat to myself once a month. I may wait till January's box to decided whether or not to carry on my subscription. What do you think? What did you get in your boxes?
Gemma xx