Picked up the latest December 2012 issue of Glamour today, and this month there are four different Nails Inc polishes available to collect. These are:
*Elizabeth Street which is a sheer pale pink.
*St James, a classic blue-toned red.
*Motcomb Street,
a blackened navy.
*Glamour Glitter which is a mixture of delicate gold and silver glitter in a clear base. This polish was created exclusively for Glamour magazine. If I see this next time i shop, will defiantly need to buy it.
The magazine is only £2, so if you wanted all four polishes it would only cost you £8 which is a bargain as the nail polishes are worth £11 each. Also would make lovely Christmas gifts. My local shop only had the pink and navy polishes on the selves, so as i wasn't too keen on the navy, I bagged myself the pink
Elizabeth street
one.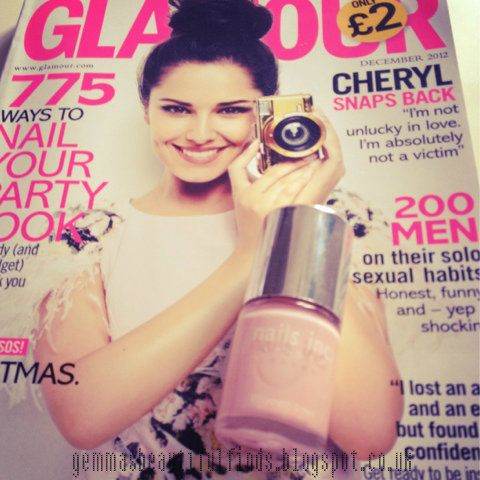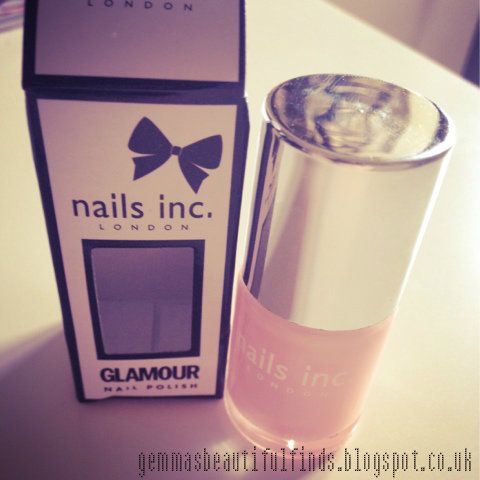 Elizabeth street is a delicate nude pink which kind of reminds me of South Molton Street that I used to own, also by Nails Inc, but this is slightly pinker colour. This is a really, soft, feminine colour that would look good on anyone and is great if you are not keen on bright colours. This is defiantly a great colour to wear for both work and play. The only negative thing i can say about Nails inc polishes is that they need about 3 coats when applying to achieve a descent coverage which can make it peel off a little bit and also find them quite slow to dry, maybe that's just me?
Overall, i would only have these polishes if they came free with a magazine as wouldn't pay £11 for a small bottle. I have always found cheaper polish better than the more expensive ones.
Have you tried any Nails Inc polishes and what do you think of them?
Gem xx
P.s
Fancy winning a Rimmel nail polish and a free advert on my blog? Yes? Then
click here