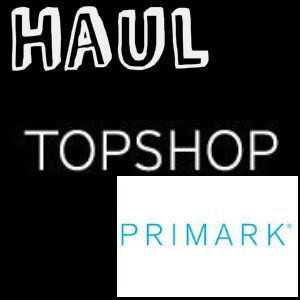 I woke up this morning and felt really rubbish. Winter blues i think. The only thing i could think of to make me feel better was a little retail therapy. I still needed a few more winter clothes and the boys also needed new outfits. Below is the outfit i wore today. (Please excuse the poor photo, I had no one to take it for me.) I am wearing my pearl collar necklace, a black jersey peplum top, and blue jeggings. All from Primark and featured in a previous haul.
Topshop buys
Topshop had a little sale on but there was nothing really there that had the wow factor for me. I have to really love something to buy it. I did find these two cute bracelets for £2.50 each. One has distressed gold look cats and the other has black skulls. Been after some arm candy for a while and these being stretchy are ideal for going over my big hands. The other item i purchased was a
Tee and Cake
Dinosaur tshirt which my Dino loving boys made me buy. This was £20, I really love the fit and its RAWRSOMENESS.
Primark buys
I wasn't going to go to primark today cause i feel like I'm always there and this blog is fast becoming a Primark only haul fest. People seem to enjoy them the most though and i love Primark so why not. It was extremely busy in there today. With Christmas fast approaching, (seven Saturdays to go!!) its going to be a nightmare in there for a while. Managed to finds some lovely things for evenings out and casual daytime.
I'm really loving studs at the moment. Think its the inner rock child coming out of me. The top picture is a black peplum and is my favourite buy of today. I love it so much. It has a sweetheart neck with mesh straps and was a bargain at £8.00. The bottom picture is a black gold studded tshirt which cost £6.00. I liked its dipped hem and would look great paired with a pair of skinny jeans and heels.
This vest stood out for me in the shop due the cute gold trim on the collar. Collars seem to be really big for autumn/ winter and this vest was a good find at £6.00.
Leather gloves are my top recommendation this winter. They go with any outfit and look super stylish. I loved the studs on these and are surprisingly soft inside. They cost £12.00 which is normally a little more than what i would pay as I'm very good at loosing gloves but i just had to have them.
I love all my dresses in my wardrobe that I brought for summer so these thick tights are a necessity if I want to keep wearing them through the winter. Got two pairs for £4.00. Bargain.
Fur snoods!
This winter I'm going through a fur craze (fake of course). Its super soft and warm and makes an outfit look vintage and stylish. I'm loving the fur collars that are currently in the shops but today i couldn't find one. They are prefect for bringing an old winter coat a new lease of life . I Will have to search the Internet for one.
This black fur snood was £6.00 in Primark. I am finding the snood a little big and will probably take some getting used to but by the time winter comes i think its going to be great to bury my face in. The bottom snood is not from Primark but from
Ebay
and has a gorgeous soft leopard print and silk lining. A much better quality than the primark one and was around the same price at £5.99.
Final buy were these fun Christmas jumpers for my two boys. They really wanted them so i cant be labelled as one of those embarrassing mums. They were £7.00 each and also come in adults sizes. May be quite fun to all be matching on Christmas day but I doubt my husband would wear one. I know it is too early but wanted to buy them before they sell out. The kids even saw Santa today, now that's too early.