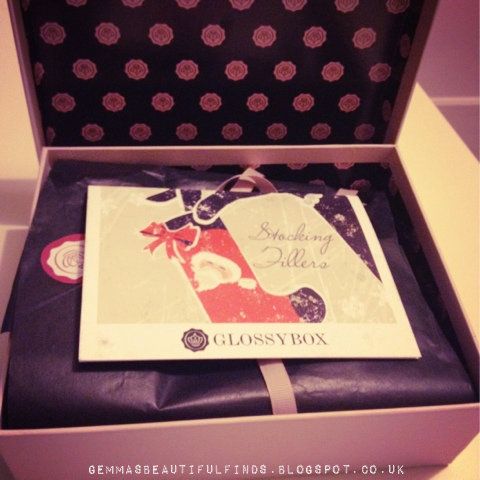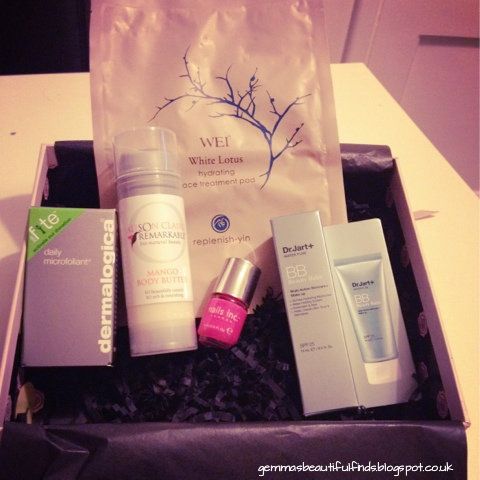 I have to say, I am very impressed with this months box. The previous boxes have been disappointing alot of people lately and so I think Glossy box have started to up their game, especially with the amount of competition they now have with other beauty boxes.
This month's theme is 'Stocking Fillers'. The card states that the box aims to serve as an inspirational gift guide which i think is a really good idea, seeing as I have no idea to buy my girlie's this year.
The first and largest product i grabbed out of my glossy box was a Wei beauty white lotus hydrating face treatment pads. On the card it states that it instantly hydrates and revitalises lifeless skin, leaving you looking dewy and fresh. The sample includes one pad which i am really excited to try out. The original product costs £55 for six pads! Expensive so must be good.
Second product is yet another
Dr. Jart
BB creme, but I'm not complaining. This one is a water fuse beauty balm which you place under makeup to avoid streaking when sweating. Last month I received a sample of the
Dr Jart+ Premium BB cream
and I absolutely adore it, I think it really deserves all the hype it's been getting recently. I had also seen some reviews of the
Dr Jart+ Water Fuse BB Cream
and I loved the sound of it so I'm thrilled to be able to try it in this month's box! From what I've read I think I might like it more than the Premium version, but we shall see! The full 50ml tube is £18 which I think is really reasonable.
Next up, a Dermalogica daily microfoliant. The card reads: A unique rice based powder that gently exfoliates skin, leaving it noticeably smoother and brighter. When I first looked at this product, i was like what is it, a salt pot? On reading the instructions i discovered you shake the contents into wet hands, rub into a paste and massage over your face and it will activate upon contact. I've never really seen anything similar before, it's a powder that is gentle enough to use on a daily basis. I have already tried this face scrub and I have to say, it feels really nice. My face felt really soft and fresh. Also there's not much of a scent to it which is what i like in a face product. The full size of 75g is £38.50 so it's pretty pricey. Will probably not be buying this if I'm honest as i find cheaper product a lot better.
The fourth product is this newcomer from Alison Claire natural beauty. It is a mango body butter which smells amazing. I have used this on my hands and has made them so soft. My husband recons the smell is a little too strong but i love mangos so it doesn't really bother me. I find it brings a little summer happiness to the cold harsh winter. The bonus of this product is that it isn't tested on animals and is made from 70% organic ingredients which I think is great. Defiantly worth buying a full size 200ml bottle for £15.
The award for best product in this box goes to this gorgeous Nails inc polish. The colour is 'Notting hill gate' which is a bright neon pink. The tiny 4ml bottle is so adorable, it's one of the smallest bottles of nail polish I've ever seen but will be perfect to put in a clutch or small handbag in case your nails require a quick emergency touch up. I've tried nails inc polishes before and have always loved the quality of them. The full size of a 10ml is £11.
Overall, I felt this is great box this month and i am excited to try out all of the products. I have seen other boxes, and have to say I'm really jealous that some girls received Burberry body! Its my one of my favourite perfumes. What did you get in your boxes?