This is what i did today: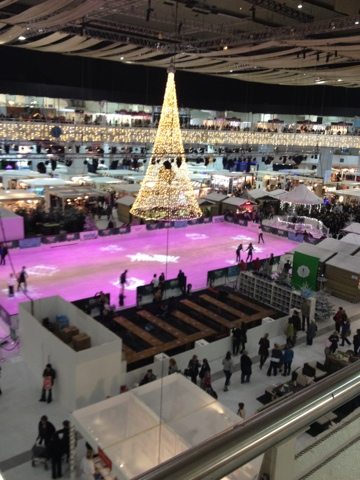 My gorgeous Mum in law, Lisa invited me to come with her to the
Ideal home Christmas exhibition
taking place at London's Earl court. I love Christmas so couldn't turn the offer down.
On arrival we were greeted by real snow!!! and father Christmas on his sleigh. This made me very happy, almost like I turned into a child again happy. The crowds were manic getting in so couldn't take many pictures of the outside but tried my best for you guys.
Our first aim was to watch the fashion show but we got distracted by Laurence Llewelyn Bowen, our first celebrity spot. He is actually really handsome in real life and a really nice person. We then got distracted again, this time by an Hawaiian hairstylist. She was desperate to make us buy her hair straighteners and claimed them to be better than GHD's. After having my hair straightened, I thought they just are not worth the money at £75 but it was still nice to have my hair done for free.
All the models had their hair styled almost in a birds nest type look. My mum in law, Lisa hated it, especially seeing that the men also had the same hair styles.I actually found it to look quite glamorous and interesting.
My highlight of the day was seeing the Jersey boys. I am admittedly a huge west end theatre nut. I love love musicals. I hadn't yet seen the Jersey boys and they didn't disappoint. Their voices are amazing and their smiles, wow.